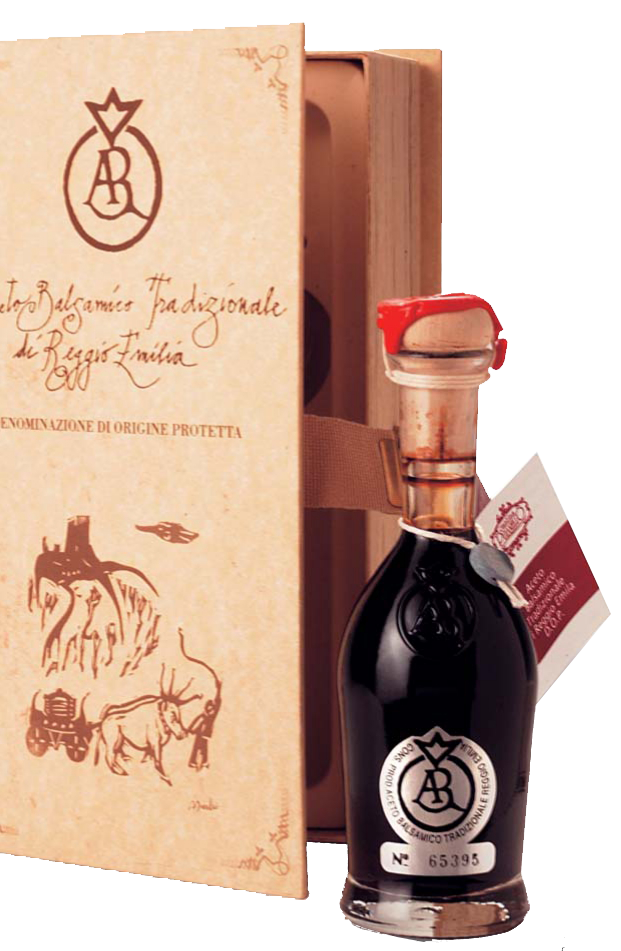 TRADITIONAL BALSAMIC VINEGAR FROM REGGIO EMILIA
Product name :
Traditional Balsamic Vinegar of Reggio Emilia – Silver Label
Product and Protected Designation of Origin (PDO) – Reg. CE N ° 813/2000
(Maximum level of guarantee for products linked to history and territory in the European Union)
Organoleptic characteristics :
Color: brown, clear, intense
Consistency: slightly and pleasantly dense
Aroma: light and delicate perfume with a pleasant acid note
Taste: prevailing sensation of sour, with more pronounced acidity and less sensation of sweetness, intense.

Chemical characteristics :
PH : 3 – 2.5
Acidity :> 5%
Density at 20 ° C> 1.2
Ingredients : must derived from grapes from the Reggio Emilia area, cooked over direct heat, acetified and aged following a process lasting at least 12 years in wooden barrel batteries.
Production process: from the pressed grapes, with an initial sugar content of 16/18 degrees, about 70 liters of must are obtained, ready to be cooked; the must obtained is about 40/50 liters, with a final sugar content between 18 and 26 degrees. The cooked must is subsequently filtered and left to settle for the whole winter in large barrels, and in spring alcoholic fermentation begins, followed by acetic oxidation. In the first twelve years the level of vinegar in the barrels, which naturally varies due to evaporation, is kept constant, for about 2/3 of their capacity, through the reinforcements. To go on the market, vinegar must face the tasting test of the commission of experts which rigidly assesses its suitability and typical characteristics.

Storage : at room temperature, it does not undergo organoleptic alterations even after opening the bottle. Extreme situations such as direct contact with fire or using the freezer should be avoided.
Shelf life : 10 years from bottling, the organoleptic characteristics remain unchanged even after opening.
Advice for use : suitable for short cooking, to create bases to be used with both meat and fish, to enrich sauces and marinades, and as a condiment for any type of salad.
Packaging : the product is packaged in an elegant box containing a 100 ml bottle, a dispenser and a Consortium booklet with the history of Traditional Balsamic Vinegar of Reggio Emilia, the main production methods for its obtainment, its fundamental characteristics and some examples of use.